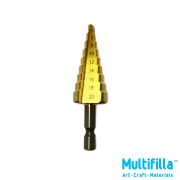 1/4″ Hex Shank HSS Titanium Step Bit 4-20mm
Code: 88102911
Quick Overview
Step drill bit, Ice carving bur, Multi drill bur,
Size: 7cm (Overall Length)
Shank 1/4″/  6.35mm hexagon
Product Description
Titanium coated step up drill bit for use with electric drill. Drill 9 hole sizes from 4mm, 6mm, 8mm,10mm 12mm, 14mm, 16 mm, 18mm,and 20mm in wood, metal, plastic and ice.
Also used in ice sculptures carving.